Cheap airline tickets to the USA can be purchased, in extreme cases, for €200$215, including all fees for a round trip. Just act quickly when tickets go on sale. Prices are usually lower for the East Coast than the West Coast, and you should be prepared for departures away from your home. By following the advice in this article, you could save hundreds on airfare to the USA.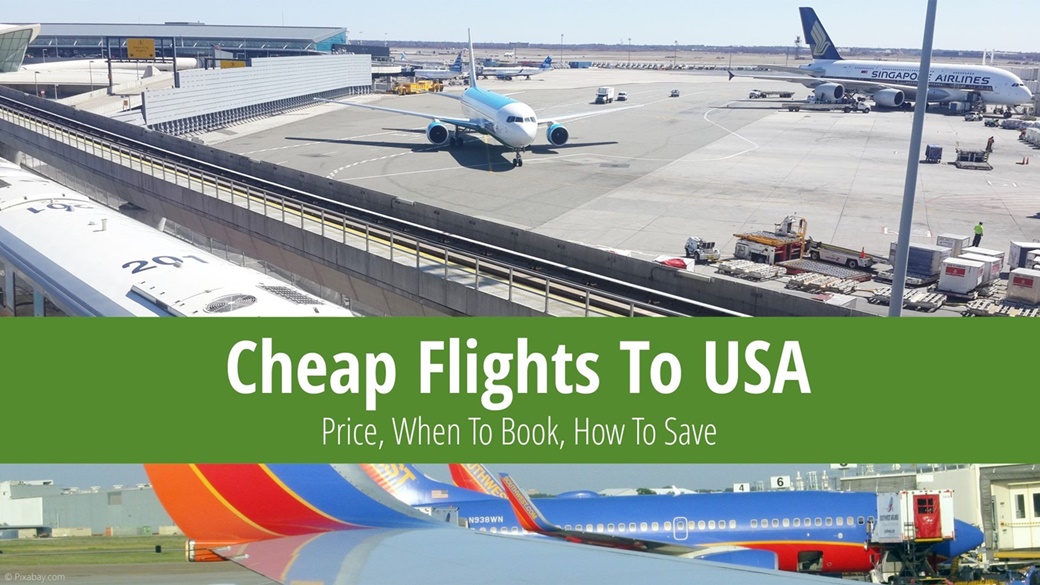 What is a Good Price for Flights to the USA?

The cost of airfare to the USA varies significantly. It is influenced by factors like demand, season, fuel prices, competition, airport fees, included services, and dozens of other elements. The prices shown in the table below are for guidance only. If you find a ticket at or below the listed price, it's a good deal.

Destinations
Direct Flights From
Promo Price
Regular Price
Boston
Frankfurt, Munich…
Up to €200

$215

Denver
Frankfurt, Munich…
Up to €400

$429

Chicago
Munich, Warsaw, Vienna…
Up to €375

$402

Las Vegas
Frankfurt, Munich…
Up to €420

$451

Los Angeles
Berlin, Frankfurt, Munich, Vienna…
Up to €420

$451

Miami
Frankfurt, Munich, Warsaw…
Up to €375

$402

New York
Berlin, Paris, Vienna, London…
Up to €335

$359

San Francisco
Zurich, Frankfurt, Munich…
Up to €420

$451

Seattle
Amsterdam, Frankfurt, Paris…
Up to €420

$451

Washington
Frankfurt, Munich, Vienna…
Up to €400

$429

How and Where to Buy Cheap Flights to the USA

🔎 Where to Buy Cheap Airline Tickets to the USA

📅 When to Buy the Cheapest Airline Tickets to the USA?

Generally, airfares are lowest two to three months before departure, with the cheapest prices in the fall and spring. During the summer and over Christmas, on the other hand, the price of flights to America can rise by up to 50%. During these periods, a large number of people travel to the USA and airlines have no reason to sell tickets at an unnecessarily low cost.

⏰ Monitor the Latest Flight Deals to the USA

Special offers are available on all airlines, with frequent deals on tickets to Los Angeles or Miami. These are either last-minute tickets with departures within weeks or regular deals up to 10 months in advance.
As soon as tickets go on sale, buy them immediately. In 2017, I flew from Amsterdam to Peru for $220. At 10:00 a.m., the sale tickets appeared, at 10:10 I bought them, and by 10:15, they were no longer available for purchase.

🇩🇪 Flights to the USA Departing from Germany, Vienna and Other Countries

If you want to buy flights to the USA inexpensively, you must consider departing from abroad. Consider Vienna, Budapest, Berlin, Munich, Krakow, and Warsaw. Very cheap tickets to Los Angeles, Las Vegas, New York, or Florida are available from Norwegian, but depart from Scandinavia.

⚠️ Error Fares on Tickets

Occasionally, there are extremely cheap tickets to New York for €125$134. This is due to a wrong fare, incorrect tax calculation, incorrectly uploaded price list, or some other error. These are called error fare tickets. The airline may or may not invalidate them after payment.

➡️ How to Beat One-Way Tickets

A one-way ticket to the USA is significantly more expensive than a round-trip ticket on almost all airlines. It's even worth buying a return ticket and forfeiting the trip back, as illogical as that sounds. The exception to this rule is low-cost airlines, which also offer cheap one-way tickets.

🛫 Who Flies to the USA?

Dozens of airlines fly to the USA from Europe, including Delta, British Airways, Austrian Airlines, KLM, Lufthansa, Air France, Swiss, LOT Polish Airlines, Turkish Airlines, Iberia, and TAP Portugal.

🇺🇸 Where to Buy Domestic Airline Tickets in the USA

You can book domestic tickets at

Booking.com

, but prices are higher. You can save by buying on low-cost airlines such as

Southwest

, Spirit Airlines, Allegiant Air, JetBlue, or Frontier Airlines. Personally, I prefer Southwest, which offers two pieces of checked luggage up to 49 lb

included in the ticket price.

🏷️ How Are Ticket Prices Determined?

The ticket price consists of the base fare (fare), fees and taxes (such as the fuel surcharge YR, departure tax…) and the ticketing fee.

Airlines typically have up to a dozen different fares for economy, business, and first class on the price list for a single route. For example, for New York, the lowest fare may be as low as €20$21.46, while others increase incrementally, up to the most expensive fare worth hundreds of dollars. To this amount, fees of a few more dollars must be added.

According to the current demand and utilization, airlines continuously adjust the number of seats for each flight and each tariff. Fees are always the same for all fares and travel classes.

What to Look Out for on Cheap Flights to the USA

✈️ Sale Tickets to the USA Are Sold in Limited Numbers

Airlines make minimal profit on special fares. They only release a small number of them for a limited selection of dates. When you come across tickets to the United States at an interesting price, don't wait, and book immediately. The tickets can sell out within minutes.

⌛ Tickets Must Be Paid for Quickly

It's common for promotional tickets to require either immediate payment or payment by midnight of the same day. For regular tickets, the deadline is typically several days.

❌ No Refund for Cancelled Promotional Tickets

Promotional tickets usually do not offer refunds upon cancellation. This is irrespective of whether the ticket was issued by Booking, Expedia, British Airways, or Lufthansa. The reason for this is to distinguish between cheaper promotional tickets and more expensive ones. You can get ticket insurance to protect yourself, but ensure you read the terms and conditions and exclusions thoroughly.

🔀 The Low Price of the Ticket Compensates for Inconvenient Transfers

Direct flights without stopovers tend to be more expensive as passengers pay extra for the convenience. On the other hand, cheap tickets to the USA often involve up to two stopovers and long waits at airports, sometimes even overnight.

➕ Add More Costs for Flights from Abroad

For example, direct flights from Germany to Chicago could be priced at $200, but the overall cost doesn't stop at the ticket price. You'll also need to account for a ticket to Berlin or gasoline, parking fees, and the inconvenience of getting to a distant airport. Ensure you consider all these extra costs carefully when purchasing your ticket.

🧳 Cheapest Flights to the USA Do Not Include Checked Baggage

When buying your ticket, check carefully what is included in the price. Most likely, on the cheapest fares, checked baggage is not included. A recent trend also excludes in-flight refreshments from the ticket price.

🛌🏽 Have a Day of Reserve Before You Fly to the USA and After You Arrive in Europe

For those who work, I recommend having a day's buffer before departure and upon return. This will help you adjust to the time difference.
What are your experiences with cheap airline tickets to the USA? Write to us in the discussion.