Travel insurance to the USA is as crucial as booking your flights or hotel. Healthcare in America ranks among the most expensive globally, with the average treatment cost for a foreign tourist being $10,500. An average of $2,150 is paid per day of hospitalization, and this cost is purely for the room without treatment and medication. In the event of an accident, if you do not have travel insurance, you will have to pay for everything out of your pocket.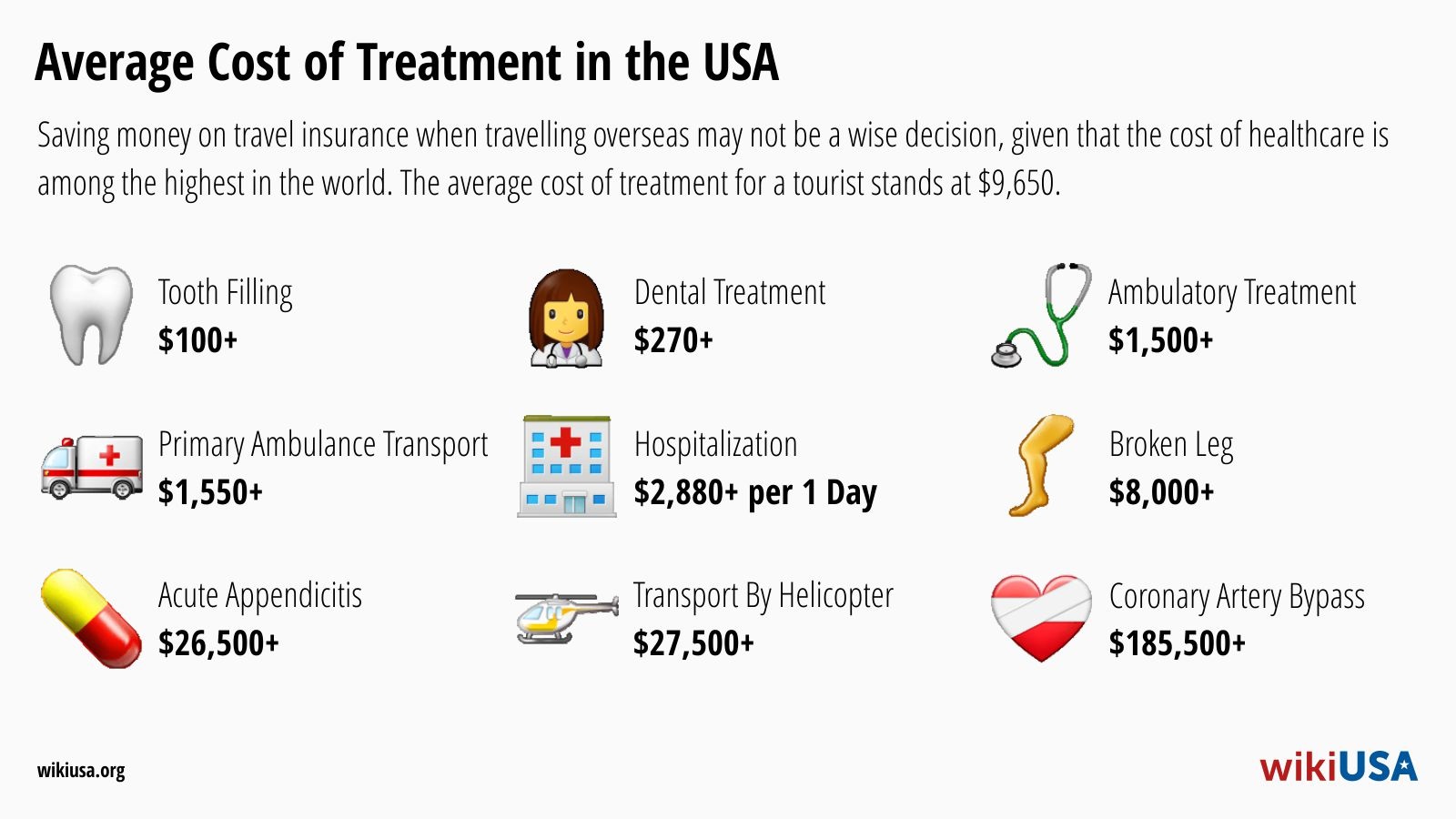 The Cheapest Travel Insurance to the USA Is…
Nonsense. Reaching automatically for the cheapest travel insurance from a comparison site is akin to sticking the cheapest available stamp on a letter and then deciding what value is needed.
With all insurance, you need to examine the benefit limits, the risks covered, and the exclusions initially. Only then does it make sense to consider the cost of insurance and experience with a particular insurer. For trips to the USA, I deem the lower limit of medical expenses to be $250,000.
To give you an idea, let's look at the average medical expenses in the USA; in New York State, they are even 20-30% higher. The data was provided to me by the CSOB Insurance Company.
| Service | Amount |
| --- | --- |
| Tooth Filling | from $105 upwards |
| Dental Treatment | $275 |
| Ambulatory Treatment | $1,500 |
| Transport by Ambulance | $1,600 |
| 1 Day of Hospitalization | $2,150 |
| Broken Leg | $8,250 |
| Hospitalization | $11,000 |
| Acute Appendicitis | $27,500 |
| Transport by Helicopter | $28,500 |
| Coronary Artery Bypass | $191,500 |
What Travel Insurance to Choose for the USA
I recommend comparing travel insurance to the USA from several providers. I open several tabs at once side by side in similar situations and compare. :-)
Arranging and paying by card takes 10 minutes. Some insurance companies even offer a discount for online arranging. In addition to medical expenses, my advice is to take out liability insurance, baggage loss, risk sports or compensation in case of permanent damage as a result of an accident or injury.
The cost of travel insurance to the USA depends on the coverage breadth, policy limits, and the insurance company. The cheapest travel insurance to the USA is rarely the best value.
What to Look out for with Travel Insurance to the USA
Choose the Right Destination
The USA is often listed as a separate region in online calculators, as healthcare there is very expensive. Insurance can therefore be more expensive than for exotic African countries.
Age Can Affect the Cost of Insurance
Health insurance to the USA can be more expensive for older clients who are at higher risk of a claim.
Risky Sports Insurance Tends to Cost Extra
If you plan to participate in adrenaline sports, pay attention to the additional insurance. Ordinary skiing, surfing, or diving are often considered risky. You can find a full list of these in the policy conditions.
Travel Insurance for Credit Cards
Most banks offer travel insurance for bills or credit cards, either free or for a fee. A common problem with these policies is the low policy limits. At an unnamed savings bank, for example, the baggage insurance limit is just $250, which is not enough to cover even an average phone.
Spoiler: at the end of the article, you can read how I ended up with travel insurance for my account after a mugging in Argentina.
In Case of Problems, Contact the Helpline
Every insurance company operates a 24-hour (due to time zones) helpline. If you encounter problems while traveling, contact it; you pay for it.
The Best Travel Insurance to the USA Is Not the Most Expensive
Repetition is the mother of wisdom: when comparing quotes, don't look primarily at the price, but at the coverage breadth and coverage amount. For medical expenses, $250,000 is the lower limit.
Insurance Does Not Cover DUI Damages
Almost all insurance companies have an exclusion in their terms and conditions that insurance does not cover DUI damages.
Read Your Travel Insurance Contract Carefully
Finally, the most important thing: motivate yourself and read a boring insurance contract. Pay particular attention to the exclusions from the insurance.
My Experience with Travel Insurance
Since 2017, I have been using Extra insurance from the Czech CSOB on all my travels. I have it as part of my CSOB Premium account, but it can be arranged separately for non-CSOB customers. I have dealt with two insurance claims during that period.
In January 2019, I had the misfortune of being the victim of a robbery, when I lost my phone worth $1,000 on the streets of Buenos Aires. I obtained a receipt from the local police and presented it to the CSOB Insurance Company. The damage was covered by the baggage insurance I had taken out, and CSOB reimbursed me the full purchase price of the phone 5 working days (!) after the report.
My second experience with ČSOB Insurance Company was in the summer of 2021, when my plane to Prague flew right under my nose in London. Due to no fault of my own – the flight from Spain was delayed, and of course, I had purchased both tickets separately. It was already evening, so I paid for a hotel and a new ticket for the next morning. ČSOB reimbursed me both in full, all I had to do was present the documents.
I hear negative experiences in my area repeatedly on travel insurance from Axa Assistance. For example, my sister had a suspected heatstroke in Greece in August 2021 (i.e., at the time of the COVID-19 pandemic), complaining of fevers and severe headaches. The Axa Assistance helpline was busy with all operators, despite the promise of a chatbot, no one from the insurance company got back to her within 4 hours. A request to contact the contracted doctor was not answered until several hours later.
What is your experience with travel insurance not only to the USA? Have you dealt with a more serious problem? Share in the discussion. :-)