Yellowstone is arguably the most famous USA national park. It is mostly located in the state of Wyoming in the northwest of the country, and it partially extends into the states of Idaho and Montana. Yellowstone is positioned over a massive underground volcano, which is why geysers and hot thermal springs are characteristic features of the park.
Information About Yellowstone National Park
Yellowstone is the world's oldest national park, having been established on March 1, 1872. It was named after the yellow-colored rocks found there. In 2021, the park attracted 4,860,242 visitors.
The park spans an area of 3,467 mi2, making it one of the larger national parks. Four-fifths of Yellowstone is covered by forests, 15% is grassland, and the remainder is water. The predominant plant species include twisted pines, Norway spruces, and Engelmann spruces.
The average age of the park's pines is 200 years. Below the park's surface lies the immense Yellowstone supervolcano, the source of the park's geysers. The volcano last erupted 630,000 years ago. The park experiences around 2,000 earthquakes each year. The greatest disaster struck in 1988 when a vast fire reduced a quarter of the park to ashes.
The park was rapidly restored by the park authorities, allowing grizzly bears, wolves, elks, marmots, wapitis, and bison to continue their residence. A grizzly bear consumes 16 kg of food daily, while a moose can remain submerged underwater for three minutes.
The highest point in the park is Eagle Peak, standing at 11,371 ft. The lowest part, at 5,282 ft above sea level, is the Reese Creek drainage. Twelve major American rivers have their source in the area around Yellowstone.
The 1872 Territorial Prison, located within Yellowstone Park near the town of Laramie, was operational until 1903. It once housed famous members of the Bevins and Blackburn gangs, such as Butch Cassidy, George Parrott, and Clark Pelton.
What to See and Do in Yellowstone National Park
Yellowstone Park boasts 290 waterfalls, approximately 465 active geysers, and hundreds of thermal springs. The temperatures at the bottom of these springs exceed 212°F, so they are not suitable for swimming.
The park's most famous geyser, Old Faithful, spews water 98 ft–184 ft into the air about every hour, ejecting up to 30,000 liters of water in five minutes. Named as the park's first-ever geyser in 1870, Old Faithful Geyser (map) is located near the visitor center and is easily accessible by car.
Have you ever seen a photo of the colorful lake from Yellowstone National Park? That's likely the Grand Prismatic Spring, which you can locate on the park map here. Discovered in 1839, it's the largest thermal spring in the US and the third-largest in the world. It's just a 15-minute drive from Old Faithful Geyser and is easily accessible by car.
The water in Mammoth Hot Springs exceeds 167°F, so you can leave your swimsuit at your accommodation. Don't forget your camera, as the cascade of springs is a highly photogenic spot. You can either stop at the visitor center or explore one of the trails.
Yellowstone Lake is one of the highest lakes in the USA. It's a remarkable sight, especially from the Fishing Bridge with the mountains as a backdrop. This 1973 bridge is a popular spot for fishermen.
Although the Grand Canyon of the Yellowstone isn't as grand as its namesake in Arizona, it's worth your attention. Located near Canyon Junction, it's about a 90-minute drive from Old Faithful Geyser. The canyon's depth varies between 787 ft and 1,198 ft.
When to Visit Yellowstone National Park
Most of the park is accessible from May to September. The average annual temperature in Yellowstone is just 36°F, and the weather can be highly unpredictable. It's essential to pack at least one layer of warm, waterproof clothing.
Summer is the best time to visit Yellowstone National Park, as temperatures frequently reach 77°F–86°F. However, the nights can be cool, and freezing temperatures may occur in the lowlands.
During spring and fall in Yellowstone NP, expect temperatures to range from 32°F to 68°F, with possible snow cover.
Winter in Yellowstone National Park sees temperatures drop to around -4.00°F, going even lower at night. Roads are typically closed from mid-December to mid-March.
Average Temperatures and Visitor Numbers in Yellowstone National Park
The table below shows the average temperatures in Yellowstone National Park. Visitor numbers are based on the 2017-2021 average, with the data source being the National Park Service.
| | Max Temp | Min Temp | Precipitation Days | Visitors | Popularity |
| --- | --- | --- | --- | --- | --- |
| January | 28°F | 10.40°F | 7.4 | 31 710 | 🟩 |
| February | 34°F | 12.20°F | 6.6 | 34 282 | 🟩 |
| March | 39°F | 17.60°F | 7.1 | 26 774 | 🟩 |
| April | 50°F | 27°F | 8.0 | 51 567 | 🟩 |
| May | 61°F | 34°F | 10.7 | 443 865 | 🟧🟧🟧 |
| June | 70°F | 41°F | 8.5 | 834 710 | 🟥🟥🟥🟥 |
| July | 79°F | 46°F | 5.9 | 983 143 | 🟥🟥🟥🟥 |
| August | 79°F | 45°F | 5.7 | 862 604 | 🟥🟥🟥🟥 |
| September | 68°F | 37°F | 5.5 | 728 294 | 🟥🟥🟥🟥 |
| October | 55°F | 30°F | 6.0 | 232 014 | 🟨🟨 |
| November | 39°F | 19.40°F | 7.9 | 19 560 | 🟩 |
| December | 30°F | 12.20°F | 8.2 | 25 323 | 🟩 |
Yellowstone National Park Entrance Fees
There is an entrance fee to Yellowstone National Park of $35, which covers the car and all passengers. For motorcycle entry, the fee is $30, while for those entering on foot, the charge is $20.00 per person.
If you plan to visit several national parks during your USA trip, consider the America the Beautiful pass. It grants you access to all of America's national parks for 12 months without additional entrance fees. The cost of a this pass is $80.
Getting to Yellowstone National Park
Traveling to the park is most convenient by rental car, and you can enter the park through several gates. Parking lots are spread across Yellowstone, and several gas stations are available in the park for emergencies.
Directions and drive times from several nearby cities:
| From / To | Distance | Driving Time | Route |
| --- | --- | --- | --- |
| Denver | 551 mi | 9 hours 20 minutes | View Route |
| Las Vegas | 771 mi | 11 hours 30 minutes | View Route |
| Salt Lake City | 352 mi | 6 hours | View Route |
| San Francisco | 966 mi | 14 hours 30 minutes | View Route |
Exercise caution when driving after dark. The park's roads are winding and narrow, and some animals' eyes do not reflect light at night, increasing the risk of accidents.
No Megabus, Greyhound buses, or Amtrak trains run to the Grand Canyon. If you don't have a car, consider hiring a service from a private company, though this can be costly.
Lodging in Yellowstone National Park
🏨 Hotels
Several larger towns and smaller villages surround Yellowstone, providing ample hotel options. For budget-friendly accommodations, consider choosing a motel. The well-known Super 8 chain has highly rated motels in Dubois, in Cody, and in Jackson. Their competitor, Motel 6, also has a location in Jackson.
For multi-day stays or groups of four or more, Airbnb might be a better option. You can rent an entire property, including picturesque lakeside cabins, at reasonable prices.
⛺ Campsites
Yellowstone National Park has 12 campgrounds. Seven are operated by the park service and fill on a first-come, first-served basis, while five are managed by a private company, Xanterra Parks and Resorts. Some campsites can accommodate RVs. Fees range from $20.00 to $32 per night and campsite.
Tips and Recommendations Before Traveling to Yellowstone National Park
ℹ️ Visitor Center
Upon arrival at Yellowstone National Park, we recommend first stopping by one of the nine visitor centers. Here, you can gather interesting information about Yellowstone, grab refreshments, and perhaps even spot Yogi Bear.
👍 Good to Know
While exploring the thermal springs, stay strictly on the wooden walkways. The water is boiling and can cause severe burns, and straying from the designated paths could also result in a hefty fine from a park ranger.
Download the area of the national park in Google Maps for offline use before your trip. Having a PDF map of Yellowstone National Park saved to your phone can also prove useful.
Photos of Yellowstone National Park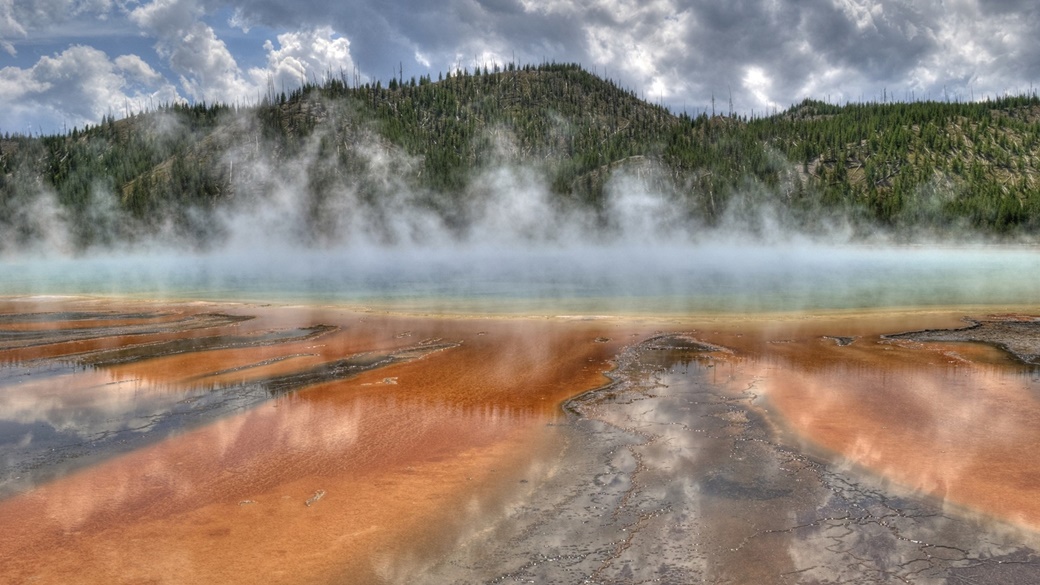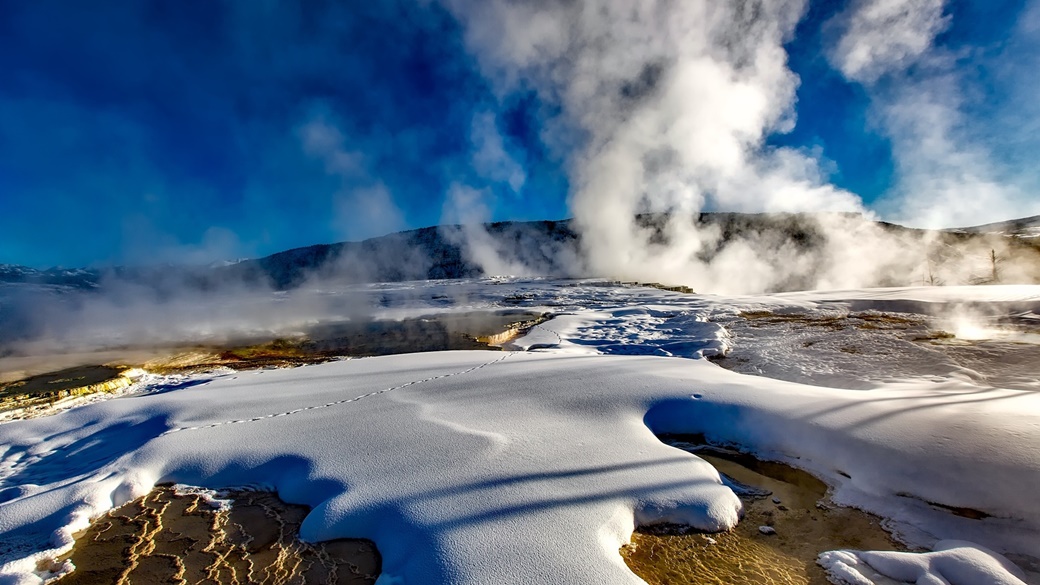 US National Parks
Travel Guides to USA National Parks