Bringing certain foods into the USA is banned due to concerns about the spread of diseases. Meat, cheese, fruit, vegetables, and other foods must be declared on a customs declaration form filled out on the plane. If you fail to do so and the prohibited food is found on your person during a random inspection, you risk a fine of up to $10,000. So, what foods are allowed to be imported into the USA?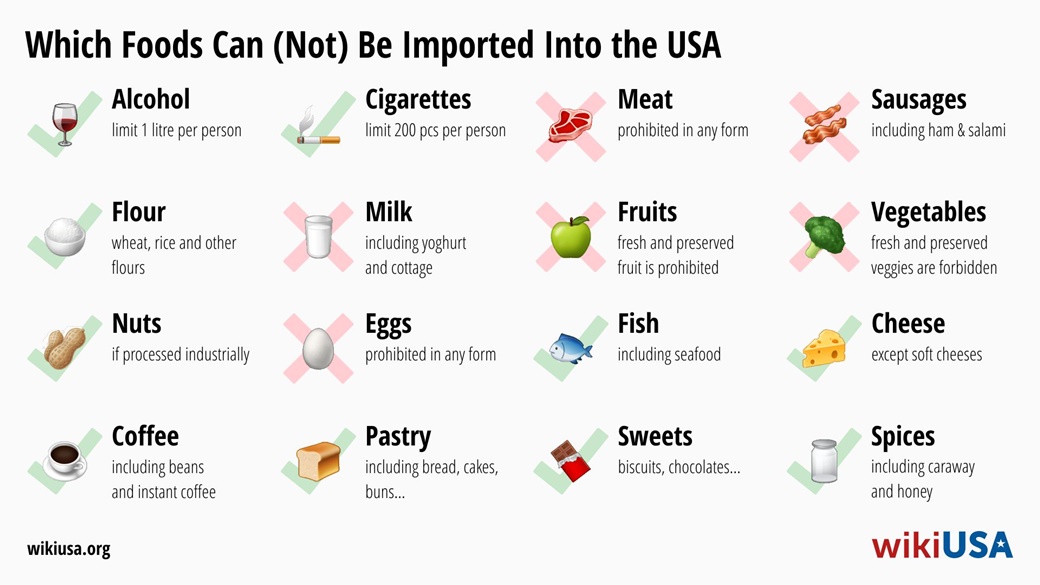 The rules listed on this page apply to all travelers to the USA, checking food in checked and carry-on luggage. Food sent to the USA by mail is also subject to the same checks.
Prohibited Food Items When Traveling to the USA

❌ Alcohol

Persons under the age of 21 may not bring alcohol into the USA, even if it is a gift. All travelers are prohibited from bringing in absinthe; bottles labeled as such will be confiscated upon inspection.

❌ Eggs

The import of eggs and foodstuffs containing raw eggs is prohibited. Importation of industrially produced food containing cooked eggs is allowed.

❌ Fruit and Vegetables

Fruits and vegetables in almost any form may not be imported into the USA. Fresh, frozen, dried, and home-preserved fruits and vegetables are prohibited. Industrially processed fruits and vegetables in cans are allowed. Dried fruit includes beans, dates, figs, raisins, nuts, and peas.

❌ Meat and Sausages

No sausages, hams, or other meat foods, including canned meats, may be imported into the USA. The ban applies to fresh, frozen, dried, smoked, and otherwise cooked meats.

❌ Milk and Dairy Products

Imports of milk, yogurt, cottage cheese, and other dairy products into the USA are prohibited. There are several exceptions to this rule. Importation of liquid and powdered milk used as baby food is allowed. Butter, powdered milk, and dairy products that do not need to be refrigerated may be imported.

Allowed Food Items When Traveling to the USA

✅ Alcohol

Each person over the age of 21 is allowed to bring 1 litre of alcohol into the USA without paying duty. Importing larger amounts of alcohol is not prohibited, but you run the risk of paying extra duty.

✅ Baby Milk

Milk that serves as infant formula may be imported into the USA. It may be in liquid or powdered form, the quantity is limited to several days of consumption by the child. Butter, powdered milk, and dairy products that do not need to be refrigerated are also allowed.

✅ Bakery Products

Bread, rolls, biscuits, cakes, and other baked goods may be imported without restriction.

✅ Cheese

Hard cheeses such as Parmesan, Camembert, Brie, Eidam or Cheddar may be imported. Soft cheeses stored in brine such as feta, mozzarella, ricotta or cottage cheese could be problematic.

✅ Cigarettes, Cigars, and Tobacco

You can import up to 200 cigarettes, 50 cigars, or two kilograms of tobacco into the USA duty-free.

✅ Coffee

There is no restriction on the import of coffee beans or instant coffee, you can bring in any quantity.

✅ Cooking and Baking Ingredients

Oils including olive, rapeseed, or sunflower, mustard, ketchup, and other condiments can be imported. Dry baking mixes may be imported as long as they do not contain meat, fresh eggs, or any other prohibited ingredient.

✅ Fish and Seafood

Fish, shrimps, and other seafood may be imported for personal use. They may be fresh, smoked, frozen, boiled, dried, or canned. Caviar may be imported up to a maximum of 125 grams per person, anything over this limit will be detained. Importation of protected seafood is prohibited.

✅ Flour, Rice, and Pasta

Flour including wheat, rice, oat, or maize flour is allowed. You may import white, brown, or basmati rice provided it does not contain husk. Pasta is allowed provided it does not contain fresh eggs.

✅ Honey

Honey for personal use can be imported without restriction.

✅ Mushrooms

Fresh, dried, and otherwise processed mushrooms can be imported into the USA. The only requirement is that the mushrooms are cleaned and there is no residual dirt on them.

✅ Nuts

The importation of nuts that have been boiled, baked, ground, oven-dried, pureed, steamed or otherwise cooked is allowed. Foodstuffs containing nuts may be imported without restriction, provided they do not violate any other rule.

✅ Soft Drinks and Juices

Soda, mineral water, and other non-alcoholic beverages may be imported without restriction. Juices and powdered drinks are recommended to be transported in their original packaging with the ingredients listed. If customs officials do not approve, they may confiscate the product.

✅ Spices

Almost all types of spices can be imported without restriction, including cumin or baking powder. Importation of orange, lemon, and lime leaves and seeds is prohibited. From experience, we do not recommend importing poppy seeds, which are likely to be confiscated.

✅ Sweets, Chocolates, and Snacks

All types of sweets (biscuits, chocolates, bars, cereals) and snacks (crisps, bars, crackers) are allowed without restriction.

✅ Tea

Bagged and loose tea can be imported into the USA without restrictions. Herbal teas may be subject to inspection, however, as long as they are industrially produced, there will be no problem.
This article covers 99% of the foods that tourists bring to the USA most often. For a complete overview of the rules for importing food into the USA, visit the U.S. Customs and Border Protection.