National parks, amusement parks, sleepy beaches, bustling cities… the American West has it all. Here's a detailed itinerary for a packed 21-day road trip across the USA. Three weeks may seem like a long time, yet you won't want to go home.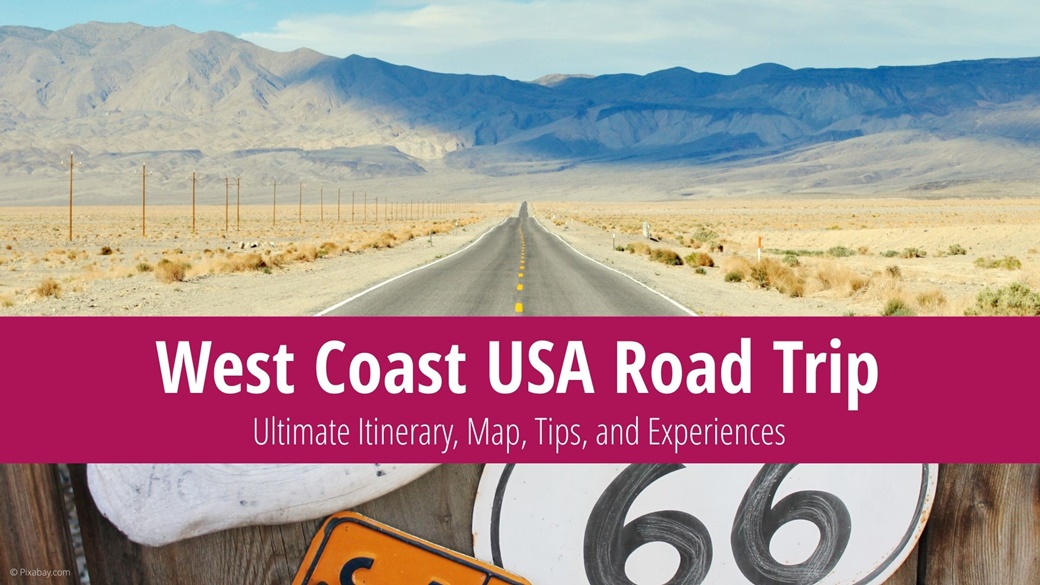 What Is the Cost of a Road Trip Across the USA?
It depends on what you make of it.
I estimate the lowest possible cost for a 21-day road trip to be $2,250 per person. The requirements to achieve this price are a bargain airfare of under $450, splitting the cost among four people, sleeping in sleeping bags or a single bed in a cheap motel, and being judicious with every dollar.
A comfortable trip for two, with accommodations in decent motels or hotels at a reasonable price, meals at Subway-type fast-food restaurants and enough pocket money for souvenirs will cost about $4,000 per person.
Flight Ticket
A round-trip ticket from Europe to the West Coast of the USA can be purchased for $450 to $900. At the lower end of the range, these are usually sale tickets with several changes and off-peak dates.
A more likely price is around $1,600 per person, including taxes. Search for tickets to Los Angeles, San Francisco, Las Vegas.
Car Rental
Renting a mid-range car for three weeks will cost at least $1,500, including full insurance. You can save money by choosing a cheaper economy car, but I don't recommend it. You'll spend numerous hours in the car, and you may be able to split the cost with fellow passengers.
During the COVID pandemic, car rental companies sold off their fleets, and then had to purchase a large number of new cars after 2020. As a result, rental prices soared.
To get a better idea, you can try calculating a guideline car rental price for each car class. The calculation is free and doesn't require entering an email.
Also, read advice on driving a car and renting a car in the USA.
Petrol
With an average fuel consumption of 10 litres per 62 mi and a gasoline price of $4.12 per gallon, calculate a cost of $0.11/1 km.
Lodging
A room for 2-4 people in the cheapest motel will cost $40–$80 per night, with only basic amenities and comfort provided.
A room in a cheaper hotel on the Las Vegas Strip will set you back from $75 per night. It's not worth staying off the Strip, as the price difference is negligible when considering the inconvenience of commuting downtown. Beware of resort and other fees that hotels in Sin City often charge.
Often a cheaper alternative for multi-night stays in Los Angeles, Las Vegas or San Francisco is Airbnb. Learn what Airbnb is and then sign up.
You can find out approximate prices for accommodation on Booking.com.
Food
When eating at fast-food restaurants, expect a minimum of $12.00–$18.00 per day. This is the lower limit for sustenance. Better quality and healthier food will cost you about $20.00–$25 per day, including water.
Travel Insurance
For a one-off travel insurance to the USA for three weeks, you'll pay from $35, more depending on the add-ons you choose.
Beware of travel insurance for credit cards, which may have insufficient benefit limits.
National Park Entrance Fees
With a bargain pass to America the Beautiful, you can visit all USA national parks at no extra charge. The cost of a new pass is $80, and you can get a used one for half that. The pass is valid for 1 year and covers the entire car crew; each member of the expedition does not need to have their own.
ESTA
For tourist travel to the USA for less than 90 days, no visa is required; you just need to fill out the ESTA Travel Authorization online.
There is a $4.00 fee for filling out the form, and if approved, your card will be charged an additional $10.00. If you have not overstayed in the USA in the past and have not been sanctioned, you have a 99% chance of being approved for travel to the USA.
Spending Money
This depends on how much control you have when opening your wallet. With less than $250 to spend on entrance fees, souvenirs, and other expenses, it's probably not worth going to the USA. I consider a reasonable and comfortable amount to be around $1,000 per person.
Ten Valuable Tips for a Perfect Road Trip in America
1️⃣ Plan Ahead
Prepare your travel itinerary thoroughly long before you leave. Book the necessary tickets, and don't forget to have a backup schedule in case of bad weather, for example. I can tell you from experience that improvising on the spot usually has a negative impact.
2️⃣ Think About What You Want to See
Just a few minutes of searching, and you will find hundreds of different itineraries for a road trip across America. Some detail exclusively the West Coast, while others guide you through the top attractions from the Pacific to the Atlantic.
You can't go wrong with either; you just have to figure out what you're after. Do you want to see the national parks, or relax on Venice Beach? Do you want to travel at leisure, or do you intend to make the most of every day?
3️⃣ A Road Trip Doesn't Necessarily Have to Start in Los Angeles
I recommend comparing airfare prices to Los Angeles, Las Vegas, and San Francisco. Likewise, compare car rental prices in these cities. Add the two amounts, and whichever is lowest, fly there. Adjust your route on the map accordingly.
4️⃣ Once You Arrive in the USA, Get on the Road Right Away
Save sightseeing in the city where you arrive for the last few days. If there are any complications, you'll have time to spare and won't have to worry about missing your flight home.
5️⃣ Accept That You Won't Be Able to Do Everything
The unwritten rule of long trips is that you plan every single day in detail, but after a few days, the itinerary takes a hit and has to be modified. Avoid second-guessing and prioritize what you want to see at all costs and what you are willing to sacrifice.
6️⃣ Rent a Big, Comfortable Car
Economy class cars are the cheapest, but they're not suitable for long road trips. Be aware that you'll be spending at least three hours a day in the car. A bigger and more comfortable car is not a luxury, it's almost a necessity. You can compare rental prices for each class on this page.
7️⃣ Split Your Long Crossings into Morning and Evening
Personally, I don't like endless hours of driving in a car, especially not as a passenger. If you feel the same way, split long stretches in half. For example, explore the Grand Canyon in the afternoon, then head towards Monument Valley in the evening. When you're tired, stop at the first motel and get some sleep. In the morning, continue the rest of the route.
8️⃣ Take Turns Driving
Don't rely on one driver to do all 21 days. Fatigue or illness may overtake them, and the whole trip could be ruined. It is more comfortable if at least two people can take turns driving.
9️⃣ How Much Does Gas Cost in the USA?
The price of gasoline in California is among the highest in the entire United States. A gallon of gasoline costs $5.69 (April 2022), compared to only $5.08 in Las Vegas. One gallon is 3.7854 litres.
Gas stations in the USA work a little differently than in some other countries. Before you go, read the instructions on how to fill up in America.
🔟 Don't You Have 21 Days for a Road Trip in the USA?
The itinerary in this article assumes 21 days. However, you just need to omit some of the more time-consuming detours, and it can be adapted for a 14-day trip. For instance, you could skip visits to Canyonlands, Arches, and Capitol Reef parks. You'll gain additional time if you head straight from Los Angeles to the Grand Canyon National Park.
21-Day Road Trip Itinerary for the Western USA