Fast roller coasters with loops and lengthy descents, state-of-the-art digital effects, and characters from popular cartoons all make up the world of theme parks. Establishments like Disneyland, Universal Studios, and Six Flags provide an extreme dose of fun concentrated in one location. It's unlikely you'll manage to experience everything in a single day. In this article, you'll discover tips about some of the best theme parks across the USA.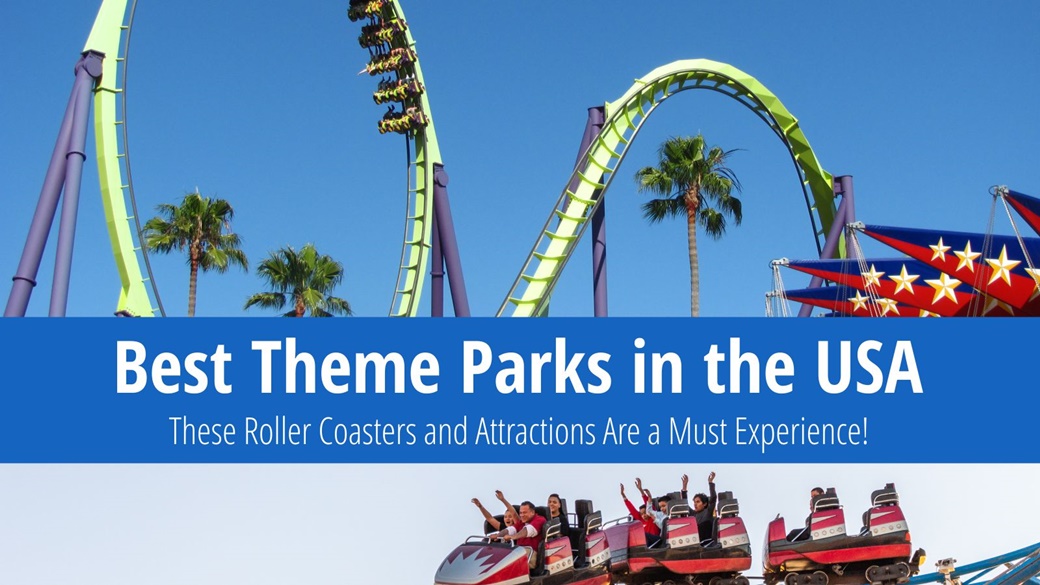 Best Theme Parks in the USA
Dozens of amusement parks exist in America, each differing in more than just their names. A classic amusement park offers a variety of attractions ranging from children's rides to log flume and thrill rides.
In contrast, theme parks might not boast as adrenaline-fueled attractions, but their features maintain a consistent style. This could be a Disney cartoon or a medieval castle theme. Then there are water parks, full of water slides and water cannons.
For inspiration, here are some theme parks, listed alphabetically, that consistently top the 'best of the best' lists.
Fun Facts About Theme Parks in the USA
1️⃣ Theme Park as a Distraction for Employees
When it opened in 1908, Hersheypark in Pennsylvania was primarily designed to serve the employees of the local Hershey Chocolate Factory. Due to its unexpected success, it was opened to the public and amenities such as roller coasters and swimming pools were added to the original carousel, bowling alley, and baseball field. One thing that has remained constant to date is the park's theme: chocolate.
2️⃣ What It Takes to Run a Theme Park
Working in amusement parks is a very popular form of part-time work for young Americans (and foreigners). Each summer, Cedar Point Park alone hires 5,000 employees. That same park uses 6,800 gallons of paint in 872 different shades annually for maintenance.
3️⃣ The Vast Expanse of Theme Parks
All theme parks are distinguished by their large size. For instance, the Walt Disney World Resort in Florida spans an area of 39 mi2, slightly smaller than the city of San Francisco. An astonishing 77,000 people work in the same park, marking the highest number of people employed at a single location in the USA.
4️⃣ How Much Does It Cost to Build a Roller Coaster?
Building a new roller coaster is quite costly, with construction expenses averaging around $8,000,000. The price for a new coaster to become a park attraction typically reaches around $25,000,000.
The record holder is Expedition Everest at Walt Disney World in Florida. Opened in 2011 after six years of construction, it runs through actual rock and required an investment of $100,000,000.
In terms of speed or height, it is rather average. However, what sets it apart is its design and the ability to move forward and backward simultaneously.
Tips for Amusement Park Visitors in the USA
🎟️ Buy Theme Park Tickets in Advance
The most affordable tickets are usually available online via the park's website, and I advise purchasing them well in advance. Ticket prices often fluctuate depending on the day of the week and season. When demand is high, ticket prices rise.
I suggest keeping an eye on the park's social media and mobile apps, as from time to time there will be discount codes for tickets.
Some parks, such as Six Flags Great Adventure in New Jersey, offer tickets combined with a bus pass. This is a convenient choice, particularly if you do not have a rental car.
⚡ For an Extra Fee, You Don't Have to Wait in Line
Almost all theme parks offer the option to either bypass the queue or stand in it virtually for an extra fee. You simply pay for a $60–$120 pass known as an Express Plus Pass, Flash Pass, or Quick Queue.
The fee for bypassing the queue is quite hefty, but it helps you avoid hours spent waiting in line, which is often the worst part of theme parks.
Some parks, such as Universal Studios Hollywood, have separate, shorter lines for visitors who don't mind going to the attraction separately. The people in these lines fill the last available seats. This can save you dozens of minutes, and often you and your companions will end up seated near each other.
📅 Best Day to Visit a Theme Park
Theme parks traditionally see the most visitors on weekends and, surprisingly, on Mondays. During the summer season, holidays, and public holidays, they are always crowded.
The best days to visit theme parks are Tuesdays and Wednesdays. Google Maps can provide a clear idea by showing the park's occupancy on different days and times. Simply search for a park and click on the Overview section.
⌚ Be at the Theme Park From Opening to Closing
Most amusement parks operate on a system where you pay one admission fee and can go on all attractions repeatedly without limit, just by waiting in line. It's usually not possible for a person to experience all the rides in a single day.
I recommend arriving at the park in the morning and leaving in the evening. Start by visiting the best attractions which will have long queues later in the day.
🍔 Save on Expensive Food and Drink
Food and drinks at theme parks tend to be quite expensive, and restaurants with long queues can be another time drain. The basic rule is: never buy at the park what you can purchase outside and bring with you.
If the park allows food from outside (check the website), pack some snacks and a water bottle in your backpack. You'll save money and precious time.
🌧️ Watch the Weather Forecast Closely
If you're planning a last-minute visit to a theme park, check the weather forecast beforehand. In the case of rain, strong winds, thunderstorms, or lightning that is not visible to the naked eye, roller coasters and the most thrilling rides are usually closed. If you visit the park on such a day, you won't be able to enjoy the rides and won't get a refund.
🎒 Stash Your Backpacks in the Lockers
Lockers are available at all parks, and there's a small fee to use them; in some places, a refundable deposit is enough. Using a locker is perfectly safe, sometimes even excessively so.
At one park in California, I found myself unable to access my locker, which I had secured with a finger scan. A security guard had to assist me after verifying my identity, detailing the contents of the locker, and signing an affidavit.
Remember to pack warmer clothes in your backpack in case of cold or rainy weather. Pack sunscreen for summer days and remember to apply it regularly.
💡 A Few Small Tips to Finish
Bring a plastic zip-lock bag to protect your phone from water attractions.
If you're at the park by car, take a picture of your parking spot. The vast parking lots can make it difficult to locate your car.
If you're visiting in a group, arrange a meeting point in case someone gets lost. Write your phone number on your children's hand as a precaution.
💬 Which amusement park did you enjoy the most? Do you have any other valuable tips for park visitors? Share them in the discussion to help other readers.