For trekkers and nature enthusiasts, spring is likely the best time to visit the American Midwest. Temperatures are in a comfortable range, national parks aren't yet overrun with crowds, prices haven't reached the peak of the summer tourist season, and you'll typically have no trouble getting settled and parked. Then, you can embark on one of the beautiful treks to admire nature in bloom, still untouched by the heat.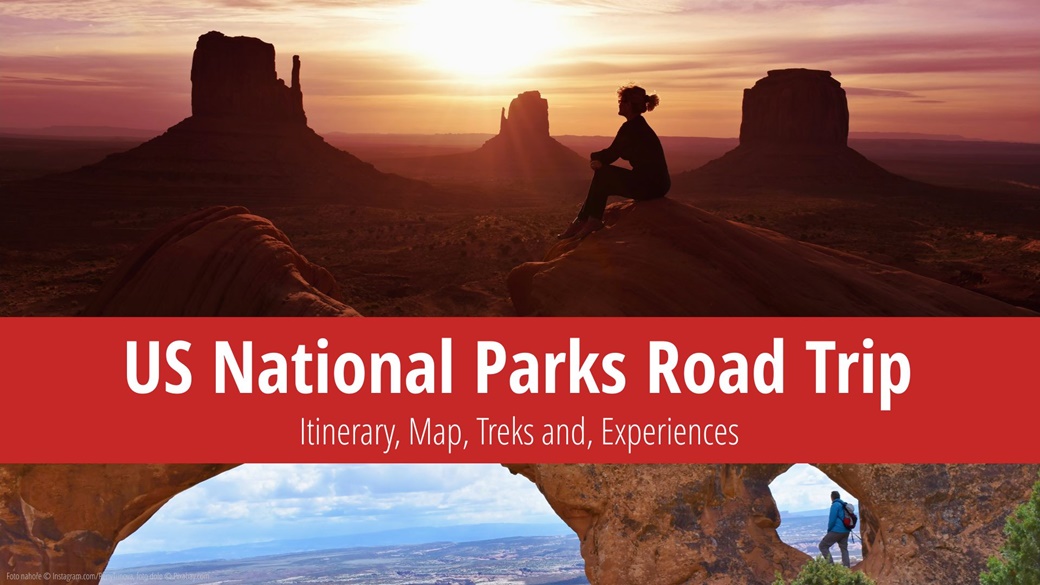 Like everything else, visiting in the spring off-season (in our case, April to May) can have some drawbacks. For instance, some mountain roads and passes may still be closed due to lingering snow at higher elevations, while elsewhere there may be renovations and preparations for the summer high season. Unexpected detours and closures may catch you off guard, as may nighttime temperatures below freezing at higher elevations.
National Parks in the USA and Their Tourism Infrastructure
Americans value and protect their natural environment, but they also ensure visitors can fully enjoy the beauty of nature. This is made possible by the exceptional and functioning tourist infrastructure in all national parks, as well as state parks, reserves, etc.
Most parks (with exceptions such as Mojave or Death Valley) require a valid entrance ticket. This ticket, or the widely used and recommended Annual Pass, can be purchased at the ticket office upon entering the park. The ticket office typically has a barrier on the road, sometimes many kilometers from the center of the park.
Along with the pass, you will receive complimentary park maps and tourist brochures with all the necessary information.
The park infrastructure includes networks of hiking trails, visitor centers, museums, parking lots, campsites, accommodation facilities, toilets, showers, laundries, shops, shuttle bus networks, and any other tourist services you can think of. There are drinking fountains and taps with free drinking water.
Everything is perfectly and clearly labeled, organized for everyone to understand. Park staff and rangers are available to help if needed.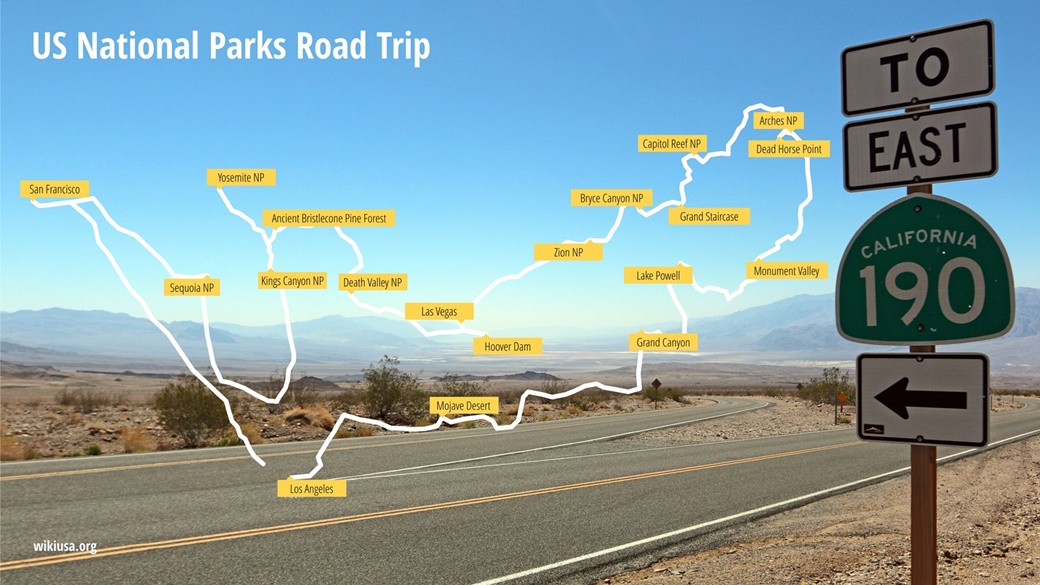 Road Trip through the Midwest USA
Our road trip by RV in late April/May lasted 24 days and covered 3,790 mi on the following itinerary: Los Angeles – Mojave Desert – Grand Canyon – Lake Powell – Monument Valley – Arches – Dead Horse Point – Capitol Reef – Staircase Escalante – Bryce Canyon – Zion Canyon – Las Vegas – Hoover Dam – Death Valley – Ancient Bristlecone Pine Forest – Yosemite – Kings Canyon – Sequoia – San Francisco – Los Angeles.
On the aforementioned road trip, we saw and visited many tourist sites and attractions. I'm focusing on the destinations I consider to be the highlights, with more detailed descriptions of the treks we personally undertook.
A Few Observations and Interesting Facts to Conclude

Most USA parks do not sell drinks in PET bottles for conservation reasons.
The Annual Pass card cannot be used at parks on Indian Territory.
In Death Valley, gas costs approximately $4.00 more per gallon than elsewhere.
Walmart, McDonald's, and other chain stores are absent in Utah, particularly in Indian Territory, outside of large cities.
It's challenging to find alcohol in rural Utah. If available, it's in a secluded Liquor Shop behind a thick barrier. The price of a bottle of table wine was so high that we suppressed our cravings. Bars do exist, but regular shops don't sell alcohol. A large market informed me they don't carry alcohol. Beer at most, but usually some fruit beer.
In Las Vegas, Nevada, you'll compensate for it; alcohol and inebriated individuals are present at every corner.
The highway to the Bodie ghost town is not maintained in winter. There was still snow in May, so it was closed.
Due to the same reason, crossings over the Sierra Nevada Mountains, including the renowned Tioga Pass, were closed in the spring. Our initially planned short trip from Death Valley to Yosemite became a day-long detour of 249 mi!

The author of this article is Renata Tunová. Her other spectacular photos from her travels, not only in the USA, can be found on RenataTunova's Instagram.