The Pacific Coast Highway is considered the most beautiful highway in the world. It stretches across California just off the Pacific coast, where breathtaking ocean views negate the need for speed limit signs. I've put together an itinerary for a road trip on the Pacific Coast Highway, and it's going to be a ride to remember because the west coast is the best coast.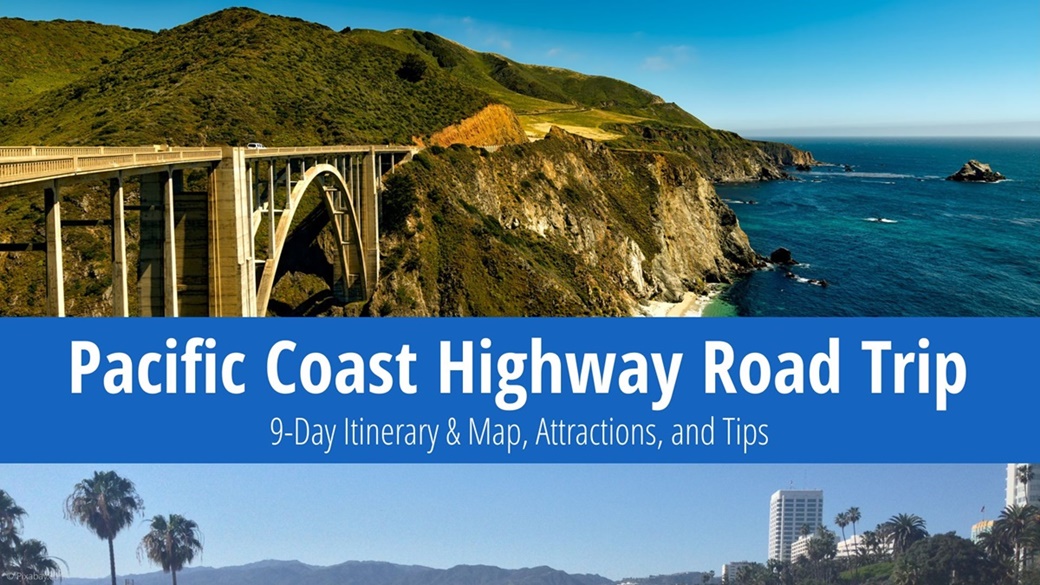 How Much Does a Road Trip on the Pacific Coast Highway Cost?
The cost depends on how extravagant your trip to the USA is.
I estimate the minimum cost for a 9-day road trip on the Pacific Coast Highway at $1,750 per person. This involves buying a discounted ticket under $400, sharing the cost of inexpensive motels and a smaller car among four people, eating affordable bagels from Subway, and admiring the pricier attractions from afar.
A budget of $3,000 per person is more comfortable. This budget allows splitting the cost between two people, swapping the small car for a convertible, visiting pricier attractions and theme parks, and ensuring a more comfortable night's sleep. Also, you don't have to wait for a discounted ticket and limit yourself to only bagels.
✈️ Airfare to Los Angeles/San Francisco
You can find a return ticket from Europe to California for €350$376–€450$483. The lower limit corresponds to special fares with several stopovers and/or low season dates.
The upper limit corresponds to high season, and the most likely price is around $650. I recommend purchasing tickets to the USA about 3 months in advance.
🚗 Car Rental
Renting an SUV for 9 days will cost as little as $620 including full insurance. The cheapest economy class car will cost from $450 upwards, and renting a convertible for 9 days will cost at least $850.
Various factors influence these prices, so I recommend you calculate the approximate price of renting a car for each car class. The calculation is free and doesn't require an email address. Before you go, read advice on driving a car and renting a car in the USA.
⛽ Gasoline
The price of gasoline in California is approximately $1.17 per gallon. With an average consumption of 10 litres per 62 mi, you should expect a cost of $0.08 per 1 km. In the USA, gasoline is sold in gallons, with 1 gallon equalling 3.785 litres.
🛏️ Accommodation
Depending on location and current occupancy, the cheapest motel room can be found for $50–$80. Basic amenities are included, and internet and parking are usually free. Breakfast is also often included at some motels. I recommend booking motels through a verified Booking.com.
Alternatively, you might consider accommodation via Airbnb. In San Francisco, I don't outright recommend Airbnb as the value for money for hotels here is rather poor.
🍔 Food
The most affordable places to eat are fast-food establishments like Subway or McDonald's, where you'll pay at least $12.00 for a day's worth of food, including water. If you prefer a wider selection and higher quality of food, budget $25–$35 per day.
☂️ Travel Insurance
You can get a one-time travel insurance to the USA for just a few hundred pennies. If you travel abroad regularly, consider getting year-round insurance or credit card insurance. Don't underestimate the insurance limit for medical treatment; I recommend choosing at least €250000$268,236.
👮 Entering the USA via ESTA
Tourists traveling for up to 90 days need only complete the ESTA registration. There is a $4.00 fee for completing it, and once approved, your card is charged an additional $17.00. As long as you have not overstayed in the USA in the past and have not been penalized, you have a 99% chance of being approved to travel to the USA.
🎟️ Admission and Pocket Money
If you heed all the tips in this article and don't spend excessively on souvenirs, you should budget around $900 for 10 days. On the other hand, it's not worth traveling to the USA with less than $500 for 10 days unless you are willing to miss out on the most enticing attractions.
13 Tips for the Perfect Pacific Highway Road Trip
Plan Your Program in Advance
Constructing a plan on the spot typically results in wasted time. Create your itinerary before your departure and reserve your tickets. They tend to be less expensive when purchased online, and at Alcatraz, for instance, they're often sold out weeks in advance.
What Do You Expect from a Road Trip?
Do you aim to maximize each day at the expense of limited sleep, relishing the chance to sleep in? Or do you prefer a leisurely pace without rushing? Define your expectations and prepare your itinerary accordingly.
What Can(n't) You Afford to Miss?
The longer the road trip, the more likely your itinerary will suffer delays. Adverse weather conditions may arise, you might decide to stay somewhere an extra day, or fatigue might creep in. Agree on which part of the itinerary you can skip if delays occur.
Best Time to Go on a PCH Road Trip
The weather in California is delightful all year round, with peak season occurring in July and August. Expect higher prices for flights, accommodation, and car rentals during this time; also expect crowds. Anticipate heavy fog around San Francisco, as opposed to rain.
Where to Rent a Car
I've had positive experiences with RentalCars.com. They provide quotes from various rental companies and include their own comprehensive insurance in the rental price. Upon receiving your vehicle, you can decline any offers from a pushy sales representative and still be well-insured. Rental prices vary by date, so do the math to get an estimate.
Fee for Returning the Car in a Different Location
Some rental companies impose a fee of up to $300 for returns at a different location, to compensate for the cost of transporting the car back to its origin. This fee is typically higher when travelling from north to south. Nonetheless, it's worth considering renting a car in San Diego and returning it in San Francisco, for example. I've found rental deals on RentalCars.com where the one-way fee is waived.
What Car to Rent
Is your road trip meant to be a once-in-a-lifetime experience, or are you looking to save every penny? Comfortable SUVs cost about 15-30% more than the least expensive cars, and a convertible will cost you 70-75% more. Keep in mind that you'll be spending considerable time in the car and likely carrying a few suitcases. I suggest choosing either a cabriolet or one of the mid-range cars.
From San Diego to San Francisco, or Vice Versa?
You have the option to reverse the itinerary and travel from north to south. I compared car rental prices and found that journeying from San Diego to San Francisco can save you approximately 10% on your rental.
Take Turns Driving the Car
Arrange for a second and possibly a third driver. Having one driver for the entire road trip can be risky due to potential fatigue, which could affect the overall enjoyment of the journey. Ensure to declare all drivers to the rental company so that they are included in the insurance policy.
Keep an Eye on Road Conditions and Traffic Jams
In Los Angeles, you can count on two things: the rain showers portrayed on TV as torrential downpours and daily traffic congestion. Before setting off in your car, check Google Maps for current road conditions and traffic. Road closures occur rather frequently on California State Route 1, officially known as the Pacific Coast Highway.
What to Pack for Your Trip
Upon arriving in the USA, purchase a data SIM card to facilitate your stay. Open the Google Maps app on your phone and download a map of California for offline use. This gives you access to free GPS navigation in English.
What to Expect from Pacific Coast Highway
The Pacific Coast Highway is well maintained. There are numerous gas stations and small towns along the route where you can stop and rejuvenate.
Do You Have More Than 9 Days?
The Pacific Coast Highway road trip itinerary assumes that you will spend a few days in both Los Angeles and San Francisco. These cities are so intriguing that a single day is not sufficient. If you have up to three weeks available, consider a grand road trip through the western U.S..
Pacific Coast Highway 9-Day Road Trip Itinerary
A map for the Pacific Coast Highway road trip is available on Google Maps. Download it to your phone for use in navigation.